Oh Oscar Spot! How do I love thee? Let me count the ways...with my new twelve month, The Oscar Spot calendar!
You can count the ways, days and months while admiring the beautiful fish photos adorning the pages of
The Oscar Spot
calendar, a different fish each month. You not only get an Oscar fish, you also get a Discus, a Firemouth, a Red Devil, A Severum and a Red Pike Cichlid among others. Remember, The Oscar Spot is not just about oscar fish.
We are a comprehensive Cichlid Web Resource Community focusing on the Oscar Fish (Astronotus ocellatus), as well as New World (South American) and African Cichlids. Our widely diverse members offer advice, help and information on our forums. We also have a wide array of forums that are dedicated to healthy and good fish keeping practices, for fresh water to hard to maintain saltwater aquariums.
The Oscar Spot
has grown to be a place where everyone from beginners to the expert aquarist can visit frequently and be proud of the content that is provided.
For the avid aquarist in your family, consider
The Oscar Spot
calendar as a wonderful Christmas gift. It's the gift that keeps giving all year long.
So what are you waiting for? Hit the spot!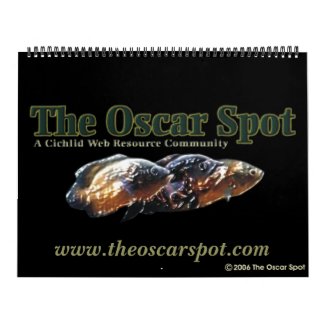 The Oscar Spot
by
oscar_azac
Get this
custom
at
Zazzle
Customize This Design
You have several styles and sizes to choose from. If you wish, click on " Customize this design" button after you have clicked on the calendar link.
Spiral Binding
: 7 "wire colours" to pick from
Date Styles
: 13 great styles
Sizes
: Small, Large and Huge in addition to single sheet
Add Text
: Want to add a message or name? Just click on "Add text". Several font styles and colours to choose from.
Buy
: When you have finishid customizing The Oscar Spot Calendar, click on "add to cart" and you are done.