Zazzle has just begun offering business cards on their website. Currently, they are available in three different sizes, "standard, chubby and skinny profile". While designing some cards for my own personal use a few days ago and trying to decide what size to use, I noticed something about the "chubby" card. It has the same dimensions as a standard collectible trading card or for the older crowd reading this, what used to be called a bubblegum card. Yes, even I remember the days when trading cards were issued in wax packs of 8 with a single stick of bubble gum. The first thing I would do when I broke open the wax seal of a pack of baseball or hockey cards (back then it was O-Pee-Chee) was to take the pink, brittle stick, covered in a fine, white, floury powder and place it in in my mouth for a delicious gum-chewing experience. Upon first bite however, the previously mentioned brittle stick would shatter into a dozen sharp shards of gum-destroying gum, not to mention the roof of the mouth, the tended inner-cheeks' lining and the ever-sensitive tongue. After the initial pain and screaming, the gum would soften up and the enjoyable experience could proceed.
I loved looking through a freshly opened pack of trading cards and to see the player's card that I had been long waiting for. It was a joy a kid never forgets. After gazing at the front of the card and its unique design, it was time to turn the card over and study all the glorious stats that the card had to offer. Sometimes stats that went on forever if the player had been around for a while. It was all a kid could hope for. Well, that and being featured on his or her own trading card one day. That would be the icing on the cake. Now that day has come.
Now you can make your own baseball trading card just like the real thing. Using the chubby size business card, I have created a design for both front and back that allows any viewer or customer to fully customize their own card featuring a photo of him or herself.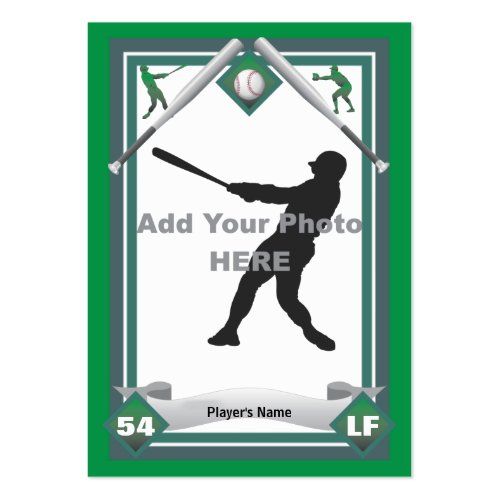 Baseball Card
by

azac69

Get this
custom profilecard
at
Zazzle
Clicking on "Customize this design" will allow any user to edit the default text information and insert their own in its place. For example, on the front where it has "Player's Name" on the banner, you simply clear that text and type in your own name. The same goes for the player's uniform number and position in the green diamonds.
Click on the back view to edit the back of the card. Here you have many more choices offered. Once again, you enter your name. Then you have again player position situated inside the white "baseball". After that is the card's number. Following that are your physical statistics and team name and after that are all your yearly personal stats and the team(s) you played for. Finally, there is just enough room to insert a career highlight of some sort or just any kind of personal trivia.
Many of the image objects on the front of the card are editable too. For instance, it you want to move around the baseball bats, shrink them down a size or delete them completely, you simply click on the object to highlight it and make your changes.
When you are satisfied with your edits, simply click on "add to cart" and order it and soon those memories will rush back to you when you open your very own baseball card. Sorry, but you will have to supply your own gum.
In the near future, I will be adding different sports designs, notably hockey, football and basketball.