It has been quite a while since I last posted and I figured it was high time that I did. First off, let me say that this blog is getting a makeover and will be a work in progress and anyone who returns from time to time will likely notice new changes. The first big change I have done is I have switched to a different template. I grew bored and unsatisfied with the old one and I think this one will work better for my needs with the stretched format, allowing for better display of my designs, flash panels and videos. Over time, I plan to play around with the fonts and colours until I find something I really like and then I will settle on a permanent scheme. But I am in no rush so I hope you like experiments as much as I do. Now, on to other news.
A while ago I designed a
DIY

(do-it-yourself) baseball card
that originates from a business card product. It allows someone to place a photo of an individual player on the front, plus input the player's name, stats, bio, etc. It has become fairly popular, so I decided to create another one for a baseball team photo card.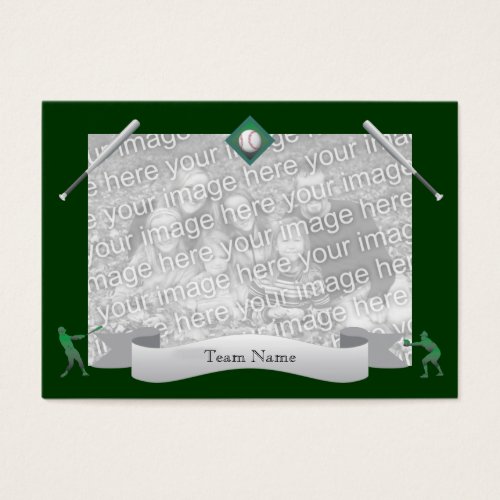 Baseball Team Card
by



azac

69

Get this
custom

profilecard
at
Zazzle
This card allows you to upload a photo of your own baseball team, be it little league, beer league, company softball, etc. In addition, you can customize the back of the card by typing in the team name and the team's record and finish for any given year. Then there is an area for you to type in the names of the entire team roster, all on an infield-dirt background, complimenting the card's front colour of outfield green. Further customization is possible by clicking on the "customize" button. If there are any further request, feel free to get in contact with me through this blog or
my gallery at

Zazzle
. In the future I hope to branch out into other sports such as soccer, hockey, basketball etc. If you have an idea that you would like to see me use on a card, just leave me a comment.