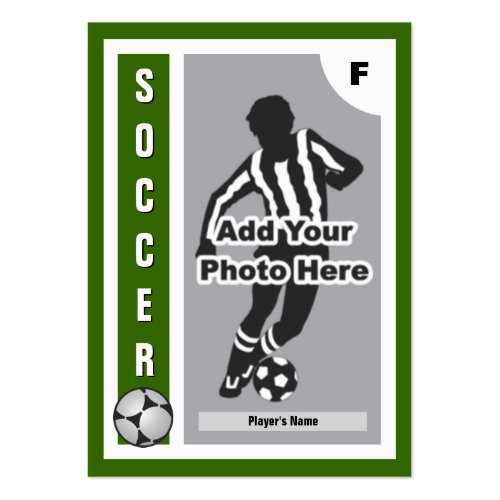 Make Your Own Soccer Card
by
azac69
Make
custom made business cards
at www.Zazzle.com
Is there a budding soccer star in your family? Do you want to preserve his or her stats for posterity and have an attractive memento at the same time? Then this is the perfect gift for your Pele prodigy. This soccer player, collectible trading card is almost 100% virtually customizable. From the front border colour and the two-toned background colour on the back to the player's stats and bio info, this card has all the bells and whistles.
Features
Here are just a few of the features:
Customizable Frame Colour (front) Click Customize it and then Colors and Background

Customizable Two-Toned Background (back) same as above

"Upload Your Photo" Template
"Insert Your Text" Template Fields (name, stats, personal info, bio, etc.)
Change text colour, category stats, font size or style (click on Customize it)
Add Any Additional Text (click Customize it and Add Text)
For the card's colours, you can choose the choices available from the menu or you can create a custom colour by entering a hex code in the white box at the bottom of the Background menu. Where it says
hex #
you can enter a specific code if you know it. Here is a website that has
dozens of custom colours with their hex numbers
. Simply copy and paste the one you want into the text box and press enter. This comes in handy if you are trying to match the colours to a specific team's uniforms.
The pack of 100 makes it ideal for trading with friends who also have their own set. The more kids or adults you know who have a set of their own, the more you can trade and build a unique 100 card set with no doubles (don't forget to keep one of your own for yourself). Bring them to a trade meet and see what cards you can swap with other collectors.
Of course, you don't have to trade them. You can give them as gifts to Grandma and Grandpa or other friends and relatives. It's a great idea to keep in mind for birthdays, Christmas, Father's Day, etc.
If you asked me what my favourite sport is , I would say,
"Soccer To Me!"



I would like your feedback on what you think about this trading card. Just post your thoughts in the comments section.



Is it user-friendly?

Are there too many stats? Not enough?

What else would you like to see added?