With the first round of the
NHL
playoffs now over, and the second round looming, most
fantasy hockey
leagues have already completed their playoffs. By now, your league has already crowned a champion and rewarded him or her with a prize of some sort, whether it be a small sum of cash or other.
Now you can indulge yourself even further with this handsome
souvenir t-shirt
, commemorating your awesome managerial skills and the fantastic season you had. It's a subtle reminder to all your friends and fellow
poolies
to what transpired at the end of the season. This is the perfect item for someone who is too modest to brag, so they let a shirt do all the bragging for them.
If you want to shower yourself further with awards, you might want to get an actual winner's trophy like this Champion's stein.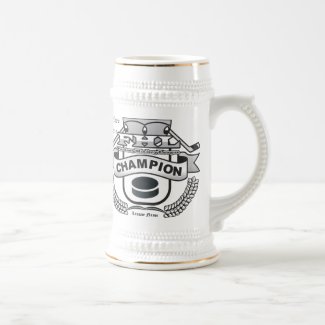 FHL Champion Trophy
by
azac69
Create
customizable travel mugs
At
www.Zazzle.com
Browse more
Sports Teams Mugs
If you're a Commissioner of your own
fantasy league
, you may want to consider rewarding your league's champion with something a little more permanent than cash (not that cash is bad) and looks great in a trophy case or by the bar in the basement.
This trophy stein makes a great memento and will always be a reminder of your championship season and what it took to get there. Besides, you know you've always wanted to drink out of your own trophy, right guys?
Even though this fantasy season has come to a close, it's still not to late to treat yourself to the trophy you deserve. It only takes a couple of minutes to customize and then it is yours forever. Then, for next season, plant a bug in your league commissioner's ear and see if he will consider offering it as a prize. If need be, part of the league's entry fee can go towards the cost of the stein.
Congratulations to all
fantasy hockey league
winners and to the rest, better luck next season.
Canadian version