The purpose of this post is to exhibit an associate designer's work that I admire. I hope you take pleasure in discovering the various works of art and products that you see here.
Visit The World of Tomorrow
RETROPOLIS TRAVEL BUREAU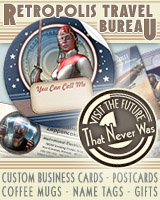 The style of this artist's work is reminiscent of 1940's and 1950's sci-fi movies and serials, hence the "retro" part of the gallery name. When you browse through the gallery, it's easy to see where some of the influences might have come from. Movies such as
War of the Worlds
,
Mars Attacks
,
Buck Rogers
and Flash Gordon immediately come to mind.
The fact that you can also personalize this stunning art adds to the allure of owning one of these products. It is certainly a treat for the eyes.
Buck Rogers Conquers the Universe (1941)
Speed Limit Mouse Pad
by
Retropolis_Travel
Browse other
custom mousepads
at zazzle.com