Recently, I have been working on designing a logo for my brother-in-law's fantasy hockey league team, Guelph Knights. I enjoy designing logos any chance I get and when it comes to fantasy sports logos, there are not the usual boundaries most other designs require. When guys come up with a name for their fantasy team, they usually don't attach an actual city name to it like real professional teams and it will usually be something like "Spongebob Hockeypants". There is nothing wrong with this idea, in fact I once named my fantasy hockey team the "Mad Mogs", inspired by John Candy's character ,Barf, in the movie Spaceballs. In the film, Barf declares that he is a Mog, half man, half dog and that he is his own best friend.
I'm A Mog
Another time I named my team the "
ReHabs
" after my favourite NHL team, the Montreal Canadiens (The Habs), had half their team on the injured list and spent an NHL record amount of time in injury rehab. However, when somebody attaches an actual location to the name it adds another dimension. Also, isn't that really the point of a fantasy hockey team? I am not talking about guys who name their fantasy sports teams after their favourite real professional teams (5 guys in a 12 team fantasy league cannot all be called the Detroit Red Wings, sorry). The object in naming your fantasy team, I always thought, was to imagine what your fantasy would be if you could place a professional sports team in any city (town, village, island) you wanted. Hence the fantasy part. If you wanted to place a team in your hometown, Population 600, then there was nothing stopping you. You don't have to wait for your favourite sports league to go through an expansion and hope that your city is on the waiting list. You don't even have to wait for a financially troubled franchise to relocate to your town either. You fulfill your own fantasy, your own destiny. Which brings me back to the Guelph Knights.
My brother-in-law resides in the city of Guelph, so that was a logical decision in where to place the team and a fantasy, since that city does not currently have an NHL team and as far as I know, is not in contention in the near future of ever acquiring one.
Next, he came up with the name, Knights, inspired by the city's nickname, "The Royal City". Put them together and you have the Guelph Knights. Ta-da!

New Guelph Knights Logo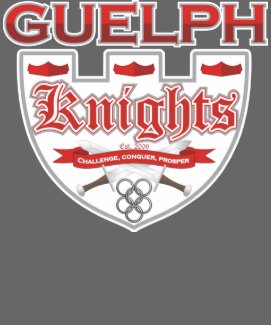 Guelph Knights
by
azac69
Get this
custom shirt
at
Zazzle
The Design Process
In coming up with this design, the dilemma facing me, was that there were so many directions I could go. My first step was to do some research on the city of Guelph. After a thorough search on the history of "The Royal City" , I incorporated many of my findings into the final design that you see above.
I chose two of the colours, red and white, as a tribute to
Guelph's official city flag
. I added various shades of silver to represent a knight in shining armor.
The center piece of the design is a knight's shield in white with a castle-inspired design at the top with a silver outline contoured in white. This was a natural symbol or object to chose since Guelph's
Coat of Arms
also has a shield as part of its design.
The town was founded in 1827(it became a city in 1879) on St. George's Day (the patron saint of England) and was named in honour of a British royal family. For these reasons, I chose an Old English font for the Knights text, using a red fill with a white outline, contoured in silver.
At the inside top of the shield, I placed three red royal crowns for a few reasons. First, the obvious. The "Royal City" is represented. Why three crowns though, instead of a single one? Well, once again, the shield in the city's Coat of Arms features three red crowns on a white background. However, I was not committed to using three until I found out more history about the city of Guelph.
Legend has it, that the hockey term "Hat-trick" originated in Guelph. Hat-trick refers to when a hockey player scores three goals in the same game. It seems that the term came into existence because the Biltmore Hat Company sponsored a hockey team called the Guelph Biltmore Mad Hatters. Whenever a player scored three goals, fans were encouraged to throw their hats on the ice in tribute to that player and soon this feat became known as a hat-trick. There are some who question the authenticity of the story's origin but if you really think about it, it does have merit. No doubt, when a player scored three goals and the fans were encouraged to throw away their hats, I'll bet no one was more encouraging than the Biltmore Hat Company, who were, I'm assuming, only more than glad to replace all those "lost hats" to the newly hat-less fans, at a price of course. Sounds like somebody at Biltmore had their thinking hat on. I hope he got a nice raise.
So coincidence led me to settle on the number 3 for the crowns. After all, what is a crown but a really fancy hat? Thankfully, fans were not wealthy enough to throw crowns around, sparing many a player a knock on the noggin.
The bottom half of the shield design is completed with a red banner placed over two crossed swords hanging over some Medieval Times chainmail.
The upward arched banner, in red, features a motto which reads, "Challenge, Conquer, Prosper" in white with a silver outline.I came up with this motto when I was looking for something to mimic the motto on Guelph's actual Coat of Arms which is, "Faith, Fidelity and Progress", originally in Latin as,
"Fides, Professio, Fidelitas."
I thought about what the objectives of a fantasy team owner are and decided that the first would be to challenge someone or some team. Next, when you challenge or accept a challenge, naturally you hope to conquer or vanquish your opponent. Finally, after winning a hard fought battle, the conqueror prospers by either hoisting a trophy, collecting some winnings or both.
The crossed swords are obviously a reference to a knights' duel. Originally I had a different design for the swords but I decided it was too detailed and intricate and I did not want it to be the focus of the design. Instead, I redesigned my own swords with a simple understated look that serves its purpose.
The Medieval chainmail or "chain maille" rings represent the body armor Knights wore to protect themselves from the slashing sword blows from their opponents. The maille has an authentic 4-1 pattern primarily used in Medieval Times. This means that four rings were looped into one and the pattern was repeated until the desired body coverage was achieved.
4 in 1 Chain Mail Pattern
I decided to show six rings which represents the number of players on the ice for one hockey team, being one goaltender, two defencemen and three forwards unified and linked together, playing as one. A chain is only as strong as its weakest link but chain maille spreads out its strength.
Finally, tying the whole design together is the text of the city's name, Guelph. I decided to use a font called Copperplate Gothic Bold, first of all because it sounded cool and second, it just has the right look for what I was going for. I wanted the font for the city name to be different from the nickname but at the same time look like the two were old friends. I also made the city name a larger text because I wanted to instill some pride and showcase the fact that these are the Knights of GUELPH, not just the Knights. I used a two-tone gradient of red and dark red to give the text a chrome-like effect with a silver outline and white contour. This team was founded last year so that is also commemorated in the final design with "est. 2006.
To end on a humorous note , you might be interested to know that there is one little bit of Guelph history trivia that I chose to omit from my final design. It seems that the jock strap was invented in Guelph in the 1920s by a company called Guelph Elastic Hosiery. A contest was held to name the new product and the winning entrant won a whopping five dollars for the suggested name of "jock strap". If that is the case, where did "athletic supporter come from?