If you have ever wanted to make a baseball card with your kid's photo on it complete with stats on the back, then here are three different styles from three different creators to choose from. The concept is simple. Upload the photo that you want featured on the front and then type in the stats that you want to appear on the back. These are the perfect items to hand out to relatives if your kid is on a little league baseball team. Instead of giving Grandma and Grandpa the traditional school class photo, give them one of these and that way they'll always know how many hits Junior had last season.
The first card's creator is BeezKneez, followed by a design by SweetRascal and then finally my own baseball card design. To see the backs of each card, click on image.
Kids Baseball Team Mini Trading Card
by
BeezKneez
Create
business cards
On
Zazzle
Browse more
Family Profile Cards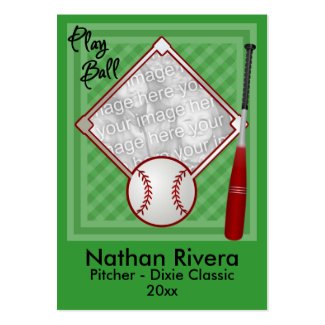 Your Baseball Trading Card
by
SweetRascal
free business card templates
At
Zazzle.com
View more
Sports Teams Profile Cards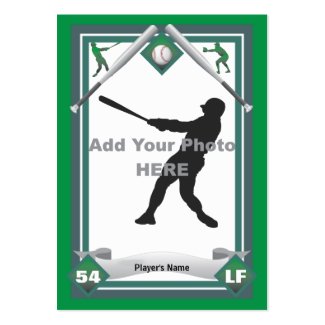 Make Your Own Baseball Card
by
azac69
Make a
business card
At
Zazzle.com
View other
Trading Collecting Profile Cards
The card above also is available in a
team photo format
and comes in
other colours
upon request. Don't hesitate to ask.